At a certain point in our lives, we had grown curious about many things regarding our sexuality.
We went beyond the classic missionary and dove deep into the internet to discover a variety of kinks and learned about every one that piqued our interest.
That certainly happened to me and it was both scary and liberating because I was nervous about what my parents would think if they ever found out.
But now that we're a little bit older, a little bit wiser, we learn that these kinks help us express ourselves in the privacy of our beds. It's fun and it definitely gives us the pleasure we want.
Yet not everybody has come to this point yet, especially when it comes to more extreme kinks like BDSM.
We're here to guide you on what BDSM is and how you can incorporate this in your sex life!
What is BDSM?
Let's get the basics down first! What is BDSM?
According to Women's Health, it stands for Bondage, Discipline, Sadism and Masochism and the purpose of this kink is to explore dominance and submission with the safe space curated by you and your partner.
Breaking it down even further, Bondage focuses on having another person control your pleasure which can involve a myriad of tools such as handcuffs, ropes, blindfolds and a range of other restraints.
On the other hand, Discipline focuses on training your submissive to obey, follow rules, or perform certain acts.
These two aspects give you an idea on how dominance and submission respectively manifest in you and your partner. So, it is possible that if you're into bondage, you might be inclined as a dominant and if you're into discipline, then you might be inclined as a submissive.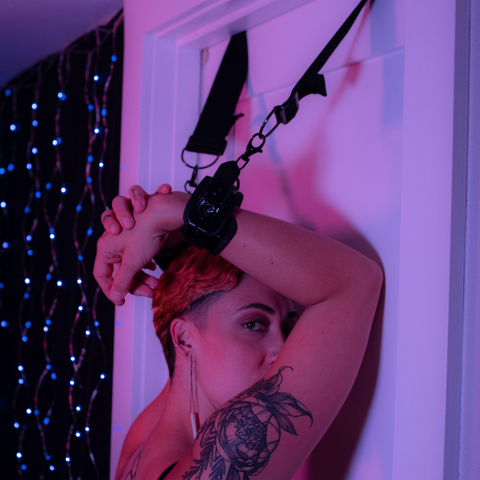 What important things should I keep in mind with BDSM?
It's not a secret that BDSM is one of the more complex kinks people could explore, but don't let that scare you away! Together with Bolde, we are going to run down the important things to take note of when engaging in BDSM:
Safe words are essential
Especially in BDSM because you are playing a role in bed. In the event that the scene (a term used to call two people in the act of BDSM) becomes uncomfortable, scary or painful, you can use this safe word to get out of the scene and initiate after care which we would dive into a little bit.
It is not like 50 Shades of Gray
Yes, we all know this famous film but the scenes depicted within are inaccurate to the culture of BDSM. The two main pillars are consent and mutual control – you consent to your partner exerting their dominance and your partner consents to you expressing your willingness to submit. On the surface, it may not look like both of you have control. On the contrary, either of you can put an end to your scene as long as it begins to feel unsafe.
It can be useful for power struggles or control issues
BDSM can be a great conduit for these particular issues because it is set in a fictional roleplay that allows you to explore in-depth on the causes and effects before you even set new boundaries with your partner afterwards.
It can reignite the spark of attraction
Now, that's not to say that all failed relationships need to be reignited, this is for the couple who are actively working on bringing a part of the joy back into their relationship.
BDSM can help with this simply because its nature provides a different and fun experience for you and your partner. Who knows? You might love it so much, it becomes a part of your sex life now!
Tips on how to engage in BDSM
If you have deemed yourself ready for BDSM, these are the important steps you need to take when engaging in the art, according to Women's Health:
Start with a fantasy
It's easy to get caught up in the moment when you're first exploring BDSM, but it can be really helpful if people take some time for themselves before jumping into anything.
Start by figuring out what gets you hot and sexy - don't fear experimentation!
Try reading stories that have power themes as this allows you to figure things out without doing anything too far just yet!
Talk it out
Trust and communication are the keys to a healthy relationship, and that includes kinky bedroom stuff.
Before you get started with BDSM, make sure you and your partner trust each other by explaining clearly what will happen beforehand so both of you are aware where the limits are. For example, whether handcuffs are allowed, or are derogatory words on the table.
Write it down
Remember how Christian Grey and Anastasia had a written contract? It's actually not a horrible idea!
Since BDSM is all about communication, write down what your partner discusses with you in order to make sure that both parties understand each other's boundaries; this way when things are getting intense or satisfaction may be desired by one person more than another – as it might happen sometimes, you have something to get back to and remind yourselves of!
Plus, down the line you can revisit said contract and revise it according to your new boundaries – if ever there is one!
Pick a setting
The first thing you'll want to do when planning a BDSM session is pick the place. You could go on vacation and use one of your personas, or maybe keep things simple with just some sexy times in bed!
It doesn't have to be fancy! As long as it feels safe for both partners, you're good to go anywhere from their bedroom to another country without anything getting too overdone.
Go shopping
While BDSM itself is such a fun and complex act to participate in, you can still take things up a notch by buying toys! Load up on restraints, chain nipple clamps, vibrators, paddles, anal beads, and lube so they can help you lean better into your roles.
Gay BDSM
Now that we've laid down the basics for you, allow us to lead you down a guide into BDSM for the LGBTQ+ community!
Oftentimes, we focus on heterosexual relationships, unaware that even individuals who are a part of this community can participate in this kink too!
Here are some of the things you need to know in order to have an explosive BDSM experience for individuals who identify as gay:
Are you a Dom or a Sub?
Before you get down and spicy in a scene, it's important to first identify whether you are a dom or a sub in the relationship. Gay Friendly explains that in "vanilla sex, it is typical for one to be more dominant and another to be more submissive, BDSM simply takes these principles to a new extreme."
So, consider what turns you on or what makes you feel powerful or free. On the flip side, consider what makes you feel pliant or willing to submit to your partner. That will allow you to differentiate what you like and which role you lean more towards.
Once you've identified the things that turn you on, it's time to assign yourself a role – and it's not called dominant or submissive.
It's actually called top or bottom. The reason for this is to remove stereotypes. Just because you are a top, doesn't automatically mean you are dominant. For example, you can be a top while being submissive at the same time. It sounds complicated but that's the way sexual preferences work and names play a huge role in influencing relationships, even in BDSM. Or you can even identify as a switch – someone who can play both roles.
Sex in this context now becomes more of a mindset rather than physicality, and that's amazing!
Common Activities in Gay BDSM
Spanking
According to the Gays.com, spanking can range from a light whipping to well-aimed slaps to the most sensitive areas like the buttocks or thighs. The intensity is up to you and your partner but again, it's important to communicate what both of you want! Once that's settled, spanking can actually be a good way to get things heated because of the balance of pain and anticipation for more pleasurable things to come.
Scarves and Blindfolds
If you don't have an actual scarf, you can start with the soft fabrics you have around the house. The purpose is to temporarily take away one of your partner's sensory functions. Commonly, that's sight. It amps up the anticipation of what your partner could do next – and if your partner's the top, that heightens your sense of submission because you are at a physical disadvantage.
Handcuffs
Now, this is for when you are ready to try more intense fantasies. When it comes to handcuffs, you can live your fantasy of being arrested by a hot officer, or trapped like a hostage. You can use handcuffs in different scenarios and all of them would influence the way you submit – or resist, depending on your persuasion.
Lesbian BDSM
Lesbian BDSM has the same conditions and parameters as gay BDSM and the overall umbrella of the kink. Regardless of how your identify, communication, consent and trust play a huge – and also non-negotiable role in participating in this act.
But in this realm, femdoms is the most well-known. From the name itself, these are women who take on the top role within the relationship and take the lead in fulfilling several fantasies within a scene through certain activities.
Common Activities in Lesbian BDSM
Bondage
According to Autostraddle, in lesbian bondage, restraints are the best way to quickly and easily tie someone up. They're much more comfortable than metal cuffs, because they don't put pressure on your wrists when you struggle or move around in them; plus there's no chance of getting cut off from circulation by tightening unexpectedly like what can happen with scarves and ties! Even if lined leather is used instead - which doesn't provide as secure feeling against struggling but does allow for easier removal during an emergency--restrained people still require little knowledge about how these work before being able use them properly
Spanking
Just like in gay sex, spanking is often used in foreplay for lesbian sex. While it's fun to use our hands when playing with a foam weapon, we should aim for fleshy areas of the body that have muscles. You don't want to hit her kidney or foot (or any other delicate part)!
When you are first starting out, try giving your partner a massage with lighter strokes. As he or she gets more warmed up and begins to relax into it - increase the pressure of each stroke slightly until just before they feel painful! This will allow him/her some extra pleasure while also teaching newcomers how different types feel!
BDSM Toys you should try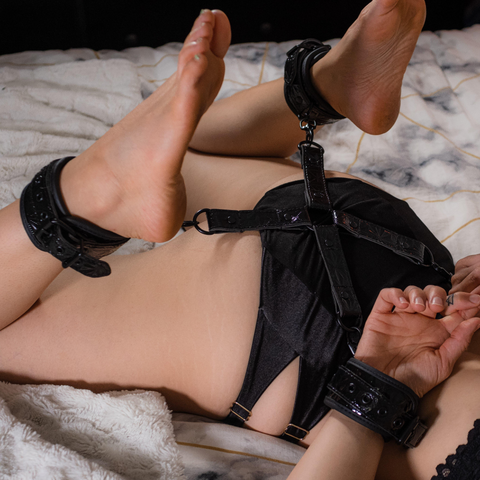 (Kinky Play Wrist Cuffs - Black)
If you're in a place where you feel comfortable investing in toys, then Women's Health has a list for you to check out and have for yourself:
Conclusion
BDSM is only intimidating because we don't know much about it. Once you have explored its nature and benefits, you'll find that this kink is actually a meaningful endeavor as it allows you to discover parts of yourself you haven't seen before!
So, go ahead and invest in the BDSM experience! Just remember that you and your partner should always be on equal footing, maintain your boundaries, keep it safe and most importantly – communicate!
Have you tried BDSM? How was it? Let me know in the comments!
If you have any questions regarding BDSM, you can go ahead and comment too and I'll do my best to answer them as quickly as I can!
I wish you the best of fun!